Lancet Public Health Journal published an alarming study which says that the Indian women result in 37% of suicides. Also, India consists of 17.8 million of the global population. Almost 4 in every ten women who commit suicide worldwide are Indians. On the other hand, Indian Men amount to 24.3% of the global suicide rate. This is the finding of the paper,"Gender differentials and state variations in suicide deaths in India: the Global Burden of Disease Study 1990-2016."
Back in 2016, the ninth leading cause of death in India was suicide. According to the statistics, suicides have increased from 1,64,404 in 1990 to 2,30314 in 2016.
4 in 10 women who commit suicide globally are from India and in the 15-39 age group. What a terrible life we offer for Indian women! @jayshreebajoria @saikatd @DILIPtheCHERIAN pic.twitter.com/NeN9brvtUo

— Menaka Guruswamy (@MenakaGuruswamy) September 13, 2018
One of the leading authors of the study says that a majority of these numbers fall in the category of married Indian women. The reason might be attributed to the Indian marriage setups. These setups leave no space for women to pursue their ambitions. Societal expectations, economic dependence, early marriages and young motherhood have been crushing the Indian women since ages. Also, lack of awareness and means leaves them with no respite.
Here is the percentage of total suicide deaths in each age group among females and males in India, 1990 and in 2016, from the Lancet report: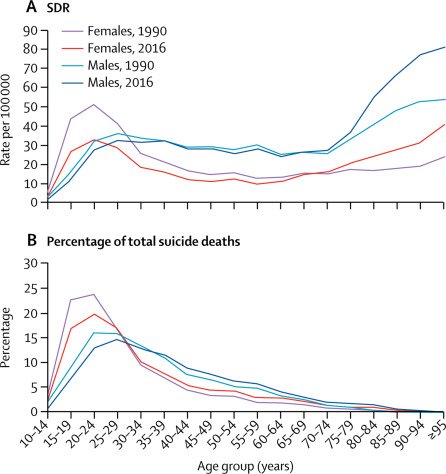 Dr. Vikram Patel, co-author of the Lancet study, in an interview with the BBC, blamed these high suicide rates on gender discrimination in the Indian society. He said, "Many women face arranged marriages by force. They have dreams and aspirations, but they often do not get supportive spouses. Sometimes their parents don't support them either. They are trapped in a difficult system and social milieu."
He also said,
"There is no definitive explanation as to why the suicide mortality rates differ so much between states or why some of the highest rates are seen in states with better socio-economic indicators. One theory is that young people in these states face a greater challenge in achieving their life goals. For example, in areas of intimate relationships and careers, because their aspirations have been influenced by education and global influences while social norms remain rigid or inflexible. This may also explain why suicide rates in young women are amongst the highest in the world. We need to be inspired by the fact that suicide is a health outcome which can be modified by public policies, and many other countries, including China and Sri Lanka in our region, have been able to dramatically reduce suicide rates through such policies."
The Lancet paper stated, "Young adults are taking their own lives in alarmingly high numbers, constituting a public health crisis. Suicide ranks first as the cause of death in India in both the age groups of 15-29 years and 15-39 years, as compared with its second and third rank globally in these age groups, respectively."